Control every part of your business from one powerful platform
Tradetraks helps your business grow by improving operational efficiency, so you can maximize your profits. We are a technology company, built in collaboration with trades professionals.
4 powerful Traks equipped to help you run your business more efficiently
Why Tradetraks?
Managing all aspects of a trades or home commercial services business can be overwhelming and inefficient. Tradetraks automates and streamlines management so you can focus on growing your business.
Learn More
Join The Tradetraks Community
Boost efficiency and effortlessly manage your team with OpsTrak
Stay on top of finances and save unnecessary costs with FinTrak
Integrated Payroll Solutions
Make payroll as accurate and effortless as possible. Time-log and GPS capture records crew hours and locations for precise payments.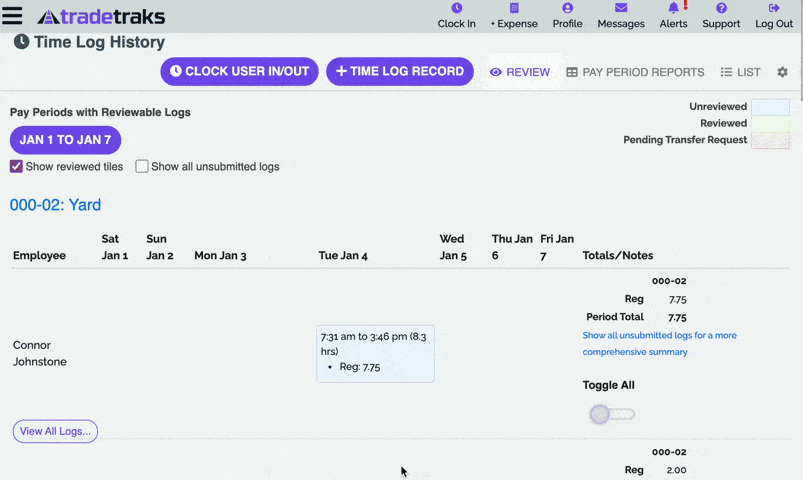 Employee Expenses
Keep track of your company's expenses with easy digital organization and review for accurate cost tracking and reporting.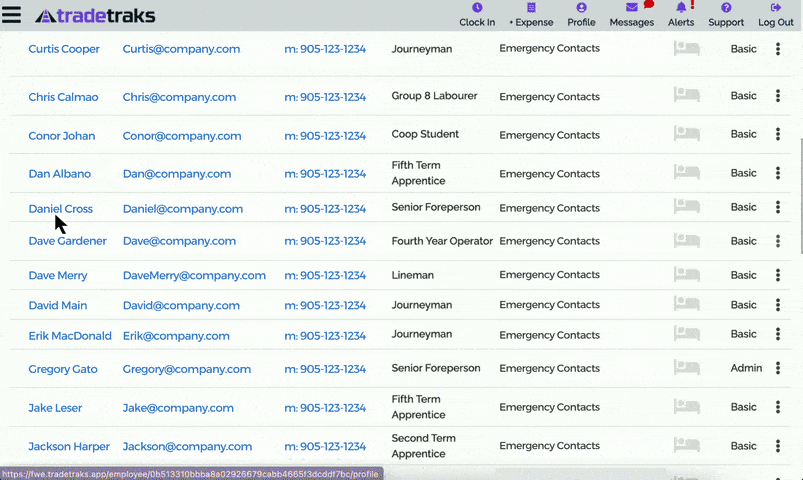 Supplier Spend
Avoid overspending and invoice mistakes with real-time input, reviews, and reports of all supplier costs.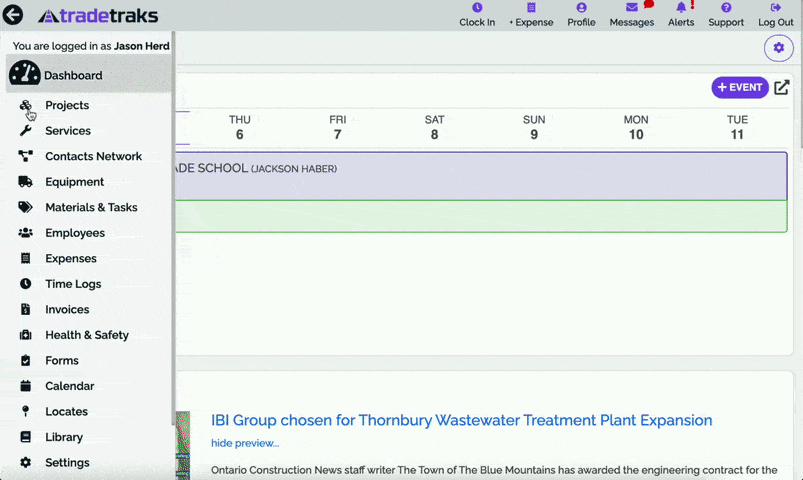 Asset Management & Billing
Get paid for work more regularly with auto maintenance intervals, easy customer asset management, and maintenance tracking.
Billing & Reporting
Stay on top of your billings and get paid quicker with easy invoice generation and issuing and automated reporting tools.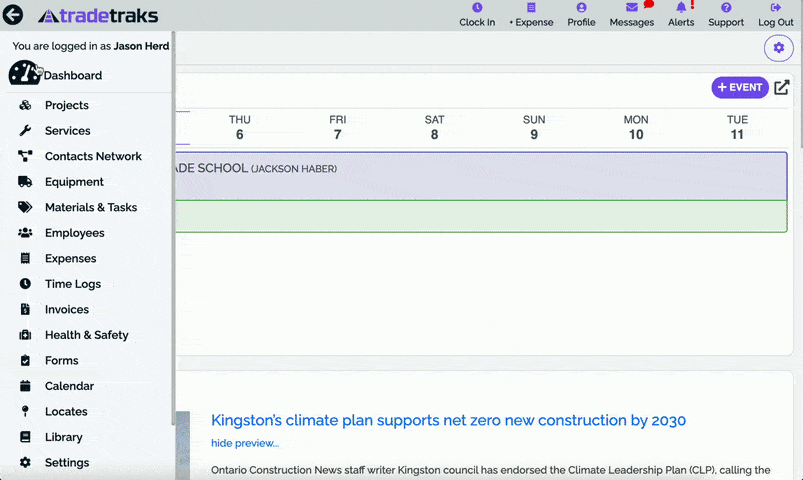 Job Cost Tracking
Equip your team to make the smartest and most efficient decisions on the fly with real-time job cost tracking.
Embedded Purchase Orders
Create purchase orders in seconds from your database, with simple issuing, tracking, and cross-referencing against invoices.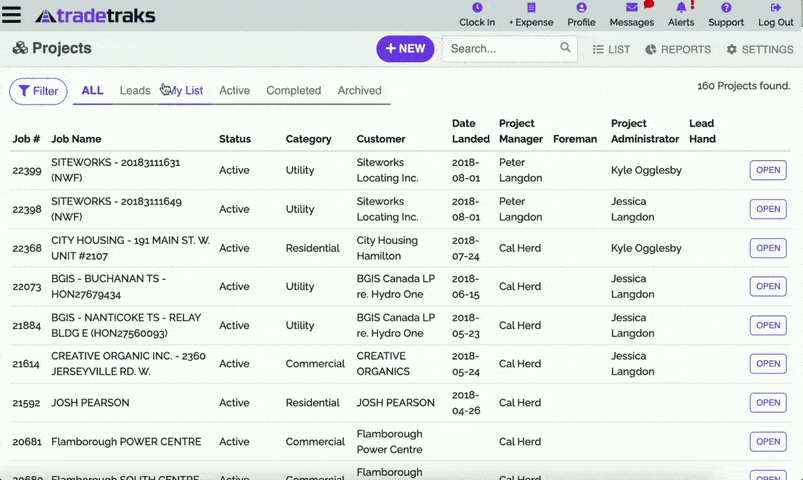 Protect your team and meet compliance requirements with SafeTrak

Embedded Job-Site Safety Compliance
Always be up to safety code with compliance requirements integrated into every service job with the app.

Integrated Risk Management Platform
Keep your team safe with customizable, permission-based forms ensuring risk is communicated and safeguards are implemented.

Real-time Safety Briefings & Incident Reports
Seamlessly integrate safety briefings into your employee's daily job routines. Reduce workplace injuries and prevent recurring incidences.
Vehicle Safety Management
Protect your team and assets with equipment-specific safety forms required before operation and real-time alerts for defects.

Training Certificate, Management & Sharing
Prevent training certificates from expiring with automating recording and tracking. Plus, easily share qualifications with third parties.

Employee Work History
Develop highly detailed work history reports built from user input for your prequalification or marketing needs.
Keep your team in sync with ComsTrak
See how Tradetraks has impacted organizations for the better
Prior to implementing Tradetraks, our office wasted countless hours tracking down paperwork orders, timesheets, and supplier packing slips. Our invoicing and filing processes took a ton of effort.
Justin Hay
Owner, Northern Clean Energy
Tradetraks has digitized and improved our operation. Every detail of a job is exactly where you would expect it to be in real-time. This has cut hours out of our administrative efforts and improved our billing cycle.
Justin Hay
Owner, Northern Clean Energy
Running an effective safety program was an impossible task before we joined Tradetraks.
Jason McCheyne
General Manager, Fiber Core Communications
I've been using Tradetraks for 3 weeks and now I can't work without it. The integrated form builder is fantastic. It allows us to build custom digital forms for our guys to easily complete while on the job. They haven't missed a safety form since.
Jason McCheyne
General Manager, Fiber Core Communications
Not quite sure how we ever survived before Tradetraks came along. Getting paid for the hours we worked and the materials we used was a nightmare.
Mike Wernie
Owner, Trade Services
Tradetraks has changed the game for us. We are now in total control of every aspect of our business. Getting paid for the work we do has never been simpler. Tradetraks is incredible!
Mike Wernie
Owner, Trade Services
We used to have to rely on multiple platforms to run the business. The platforms didn't communicate and cost a ton of money. We spent years looking for the right system.
Andrew Brush
Owner, Fairway Electrical
We run our entire operation on Tradetraks. The project and Service management features with the embedded health and safety and communications tools are truly incredible. Can't beat the price either.
Andrew Brush
Owner, Fairway Electrical
Keeping tabs on expenses and tracking job cost was so difficult. We never knew if we had everything accounted for.
Alex Ewing
Owner, Aceis Group
Tradetraks expense management tools make tracking job cost simpler than we could have ever imagined. All the information is soo well organized and accessible from anywhere.
Alex Ewing
Owner, Aceis Group
We knew we were losing time as the hours paid and billed didn't match up, same with materials, we just couldn't pinpoint which jobs, tasks etc...
Andrew William
Owner, NexGen Electric
The clock in and clock out feature has improved our billable hours by approximately 16 hours per month per technician (about 10%). We've realized that Tradetraks is a tremendous tool for implementing systems that improve company-wide margins with a quick turnaround, the ROI is amazing.
Andrew William
Owner, NexGen Electric
Pricing
Unlock all four powerful Traks at one low price.
Flat rate up to 10 active users per month
Flat rate up to 25 active users per month
Flat rate up to 50 active users per month
Flat rate up to 75 active users per month
Flat rate for unlimited active users
No commitment, payment is monthly, cancel any time.
Let's Connect!
Experience what Tradetraks can do to grow your business.
Fill out the form or email us at info@tradetraks.ca